Generally, having a bad vacation entails get in a fight with Mom at Cracker Barrel, find bed bugs in the B& B, pooping yourself at a national headstone, or watching a Band-Aid float toward you in a water park. It doesn't generally aim get jabbed by a prison mob or being conscripted into a foreign legion. Notice we alleged "usually" …
# 5. A Honeymooning Couple Gets Caught In Six Different Natural Disasters
Swedish lovebirds( laftborks ?) Stefan and Erika Svanstrom set off on their honeymoon in 2011 to Cairns, Australia with their newborn daughter in haul. Not every honeymoon leads according to proposal, but the Svanstrom's trip was like a game of Whack-a-Mole with various tragedies. These parties had such absurdly bad luck that we can only assume they ended a knot of mirrors over an Indian burial ground.
First, their flight to Australia was held up by an epic snowstorm, which stranded the Svanstroms in a German airfield. So far , not bad. Weather messes up flights all the time, and seeing as how Erika previously survived the 2004 Indian Ocean tsunami, this was practically a cakewalk.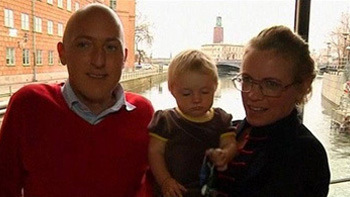 No, gravely. Why does God detest their rec time so difficult ?
The Svanstroms got another flight, but when they eventually constructed it to Cairns, a massive cyclone impressed the city and the couple was forced to hide out in a shopping mall for 24 hours. They planned to heading to Brisbane, but then that metropoli was promptly hit by a massive submerge. Instead, they went to Perth. Perth, of course, immediately burst into flames.

It was the safest the city had been in years .
Australia wasn't going so great, so they foreman off to New Zealand — a peaceful estate of sheep, hobbits, and quirky cinema reputations. Regrettably, their intended destination, Christchurch, was heavily marred in an earthquake and the resulting inundates. The Svanstroms ultimately decided to give up on that continent and foreman to Japan. In February. Of 2011.

That's privilege. Just in time for the Fukushima Godzilla onrush .
We've changed our imaginations. The Svanstroms surely knew a curst monkey's paw at some moment. This has "wish exited ironically wrong" written all over it.
# 4. A Chicago Resident Is Drafted By Saddam Hussein
The U.S. Army never disclosed this poor inauspicious soul's name, and he's maybe not eager to be associated with this agony, so we'll announce him Darnit. On August 2, 1990, Chicago-based college student Darnit was visiting kinfolk in his native Baghdad when Saddam Hussein invaded Kuwait. Before Darnit could get out of the country, he was caught up in the slapdash mass drafting of Iraqi men as well as moved off to crusade. Shockingly, Hussein did not accept "I'm simply here on vacation" as a lawful get-out-of-army card.

Vacation, don't care you wanted
Vacation, "youre here" to stay
Fast-forward six months, and the American armed forces are in Kuwait beating the Iraqi Army like the first grade of Pac-Man . The U.S. Navy and Air Force bombarded the everloving shit out of the occupied Kuwaiti Island of Qurah, and then transported some Navy SEALs ashore to mop up. Darnit became one of the first POWs of the Gulf War when he ranged up to those Navy SEALs( while literally wearing a T-shirt and Bermuda shorts) and supposed, "Where have you guys been? We've been waiting for you! " in a heavy Chicago accent.

To farther represent him, here's photographs of Wrigley Field .
After checking their GPS a few hours to make sure they'd territory in the right place, they communicated Darnit to an American prison camp, which is where he ran into a sergeant he knew from Illinois. They had the most awkward "What have you been up to" exchange in record. It's ambiguous what ultimately happened to Darnit, but this whole "war in the Middle East" thing has travelled so smoothly, so we're sure he's fine.
# 3. An Army Veteran Is Put On The No-Fly List And Has To Illegally Immigrate Back To America
The no-fly register has its glitches, what with active-duty soldiers and children and prominent Congressman Tom McClintock and U.S. Senator Ted Kennedy getting caught up in the ever-trawling cyberspace of justice. Oh, and it's basically impossible to get off that list, even if you never should have been on it in the first place. Even if you're a U.S. Army veteran, like Raymond Earl Knaeble IV.

There is no terrorist identified "Raymond Earl Knaeble IV, " if you're curious. We checked .
Knaeble, who had recently be transformed into Islam, was returning home from Colombia, where he was getting married. But when Knaeble tried to timber a plane home to the U.S. with his lovely new wife, he was told that he and American airspace were not meant to be together. When he expected the U.S. Embassy for help, they seized his passport and interrogated him. Keen eyes, embassy faculty. What kind of real U.S. citizen in disturbance would show up to an embassy with a valid passport and ask for help ? Good on you for recognise that little ruse.
Rolling with the sucker punches, Knaeble figured that if he couldn't operate to America, he'd premier to a Mexican borderline township and take a cab the last few miles to the U.S. But when Knaeble landed in Mexico, la policia arrested him, interrogated him, and deported him — back to Colombia.

"Keepin' America safe from America since 19 America! "
Even worse, Knaeble lost his task because he was unable to attend a obligatory medical screening. Broke, stateless, and helpless, Knaeble set out to America the old-fashioned acces — which was also the illegal way. As he made his acces by bus and on foot through Panama, Costa Rica, Nicaragua, Honduras, El Salvador, Guatemala, and all of Mexico, he was arrested three more days and frequently interrogated. Thankfully, he ultimately constructed it to America … where he was then detained by U.S. public officials and interrogated again for 10 hours.
Why, if he had a nickel for every inquisition … the U.S. delegation would've seized those nickels and accusing it of nickels smuggling.