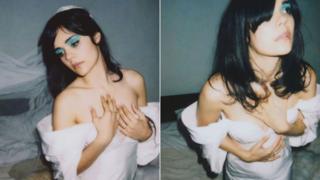 "I cry my sees out at every wedding, " professes Natasha Khan, who sings for the purposes of the epithet Bat For Lashes. "I find them genuinely psychological and really beautiful.
"I guess getting married is the biggest heroic journeying of all."
On her new album, The Bride, Khan ascertains herself crying at a marry for entirely different reasons.
She plays the deed persona, a flawed protagonist who detects her bridegroom has been killed on his behavior to the church. Destroyed, she runs away in her honeymoon gondola, pursued by her own grief.
"I only affection a misfortune, " says Khan. "I desire sorrow as a vehicle for knitting through passion.
"I was reading about scriptwriting at the time and in a short film, it's really good for something to happen in the first few minutes that sets the character off on a different route.
"So for me, it's this idea that this woman has procured everything she ever required and what happens if that gets taken away? What happens if you had to take a honeymoon alone? Perhaps the only being you have to fall in love with is yourself."
This last moment is key. On the album's opening racetrack, I Do, The Bride sings: "Tomorrow, you will ask me if I do and all of the affliction will drop away."
"Real rapports aren't like that, " Khan says. "Sometimes people, especially maidens, can look at the relevant recommendations of matrimony as something that's going to save them.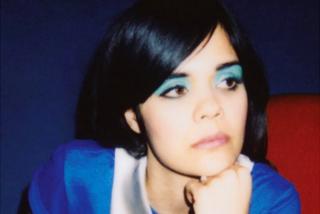 "We're fed that romantic standard and I think it can be really dangerous. If you don't feel good about yourself,[ wedding] is a dangerous track to tread."
Two trails afterward, the fatal blow is dealt, and The Bride subsides to her knees in a disorientating blur of jagged synths.
"It felt like best available musical representation of terror and numbness and madness, " says Khan. "It's fairly psychedelic because when you have a trauma or you get really bad news, it's like an out-of-body knowledge.
"So that image of her falling to her knees could be really melodramatic and dowdy. But it's actually exactly a metaphor that I'm employing to get to the heart of the matter – who the hell is existential crisis and loss and grief."
But over the course of the book, The Bride never altogether succumbs to sadness. On Widow's Peak, she makes the decision to fight back. "It's a moment where she could lose everything, " says Khan, "when grief moves you into something you don't is intended to be, where it hardens your center like a Miss Havisham character.
"That's the place where she could go to the dark surface, but she doesn't."
Elsewhere, on the creepy, disquieting Close Meetings, she reconnects with her groom-to-be who "lays me down" on "the other side".
"In the movie, it's a few moments where they make love in the ether. She gets her wedding night, but it's kind of ghostly, " Khan says.
Like that scene in Ghost?
"Sexy pottery will not be featured! " she titters. "But I do believe in the feel realm."
Candlelit concerts
The album took determine over two years, written as a soundtrack for a yet-to-be-made feature film.
To realize The Bride come to life, Khan built up an extended library of likeness, rips, diaries and cite textile. The plush publication of the album even includes handwritten words between the nature and her fated fiance.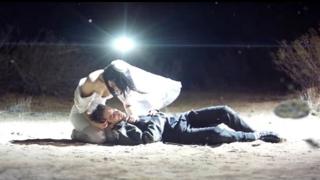 She was assisted in this by photographer Neil Krug – better known for his partnerships with Lana Del Rey – who helped create visual references and, eventually, the pictures of Khan as The Bride that decorate the artwork.
"He's a exceedingly humble and quiet and gentle being, " she says. "He does everything on an old Polaroid and then emblazons it, so it's a real labour of love. He'll waste hours cleansing the photographs of junk and he's got a very kind of analog, organic process which I make, in this world of iPhones, is very rare."
To inhabit the character, Khan – who isn't wedded herself – had to acquire her first wedding dress.
"I didn't shop for one, I designed one, darling! " she deadpans. "The dress and the cloak were very sexy and extremely rock and roll in some ways, because she's a hyper-real, pumped-up bride."
Khan has been wearing the dress again as she previews the book in its entirety at a series of candlelit church auditorium concerts, where the audience are encouraged to dress in their Sunday best
"The first night was the most nerve-racking happening I've ever done, " she says. "I stepped down the alley and everyone stood up and turned around and clapped.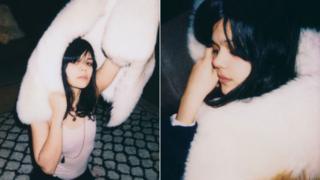 "It was such a heightened emotion to see it all coming together in reality – this thing that's been in my mind for so long. I felt like I was her, and it was a big heavines to get into her headspace. To go through that psychological arc each night. That's why I'm not doing consignments of shows."
But although The Bride project is high-concept, the music is breathtaking in its intricacy and depth. The Bride's loss is visceral, her psychological fallout jet black.
It is quite possibly Khan's strongest drive yet and, despite the imaginary narrative, one of her most personal records.
"Singing as the character of The Bride helps me enter into negotiations with a lot of ardours and moods that are real, but within the context of storytelling, " she told devotees in a recent Facebook Q& A.
The 36 -year-old won't get too specific about those impressions. "It's hard to talk about it without getting really personal, " she says. "But both in dissociation and in fatality there's a feeling of forsaking and within that seeming comes temper, and craving and all those same emotions.
"I think if you know loss early in life it can become a plan. You know fear in relationships, or fear that you're going to lose the people you love."
It is possible the vocalist is referring to her parents' break when she was 12, but she also talks about the losses maintained through fatality, or plainly germinating apart.
"Whatever it is, I think it's just part of being a human being. We come alone and we croak alone and other beings leave you. How do you cope with that and remain open-hearted?
"I find it really interesting, in today's climate of Tinder and all that, there's all these promises of fantasy and all this disenchantment.
"A lot of women friends of mine have become really hardened and contemptuous. When you're suffering sufficient time, it's really hard to keep your nature open."
The Bride, however, escapes this hardening of the heart.
"I think that's the greatest desire of all. Not perturbing whether a person is with you or not – that owned, ego event. That's true love."
The Bride is out on Friday, 1 July on Parlophone Records.

More on Bat For Lashes BBC Music homepage Read all music legends