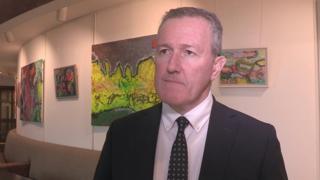 Northern Ireland will be kept in an "austerity trap" unless the government's financial container is increased, the Stormont finance minister has said.
Conor Murphy claimed the PS1bn on offer does nothing to fix problems with health and education.
He earlier described the parcel as an "act of bad faith".
NI Secretary Julian Smith has rebuffed criticism of the financial package to underpin the spate to restore Stormont.
Stormont to get an extra PS1bn from Westminster Image caption Julian Smith defended the offer on Thursday Image caption Colum Eastwood asked for self-assurances over funded for a medical institution at Magee