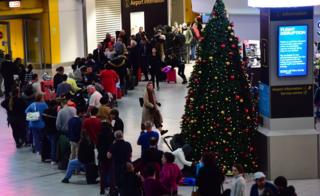 Gatwick's runway has reopened after dronings stimulated the airport to shut down for more than a day.
The airport, the UK's second busiest, said 837 flights were planned but there were postpones and cancellations.
Boss Chris Woodroofe said "mitigating measures" from national governments and military had given him "confidence to reopen".
The drone operator is still at large and police said it was possible they were an environmental activist.
The airport will likely be "back to normal" following completion of Saturday.