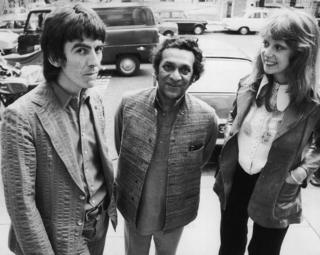 A sitar owned and played by George Harrison is going to be auctioned in the United States.
The instrument, acquired from a shop on London's Oxford Street in 1965, was used by Harrison during the recording of the Beatles song Norwegian Wood .
The Indian string instrument, crafted by a well-known music store in Kolkata, was eventually endowed to a acquaintance of Harrison's first wife, Patti Boyd.
Bidding for the sitar will begin on 28 September at $50,000( PS37, 327 ).
Harrison had discovered the sitar in 1965, on the located of the Beatles' second movie, Help.
His love affair with oriental mysticism first stimulated itself known in Norwegian Wood, John Lennon's tale of an extra-marital fling. Acoustic guitar and muted bass were augmented by the Indian instrument.
George Harrison: The quiet Beatle Harrison's Eastern roots Image caption The sitar will be auctioned later this month