As defeat followed demolish, the Brexit masterplan of Boris Johnson and Dominic Cummings came untie, torn apart by Tory rebellion and cross-party collaboration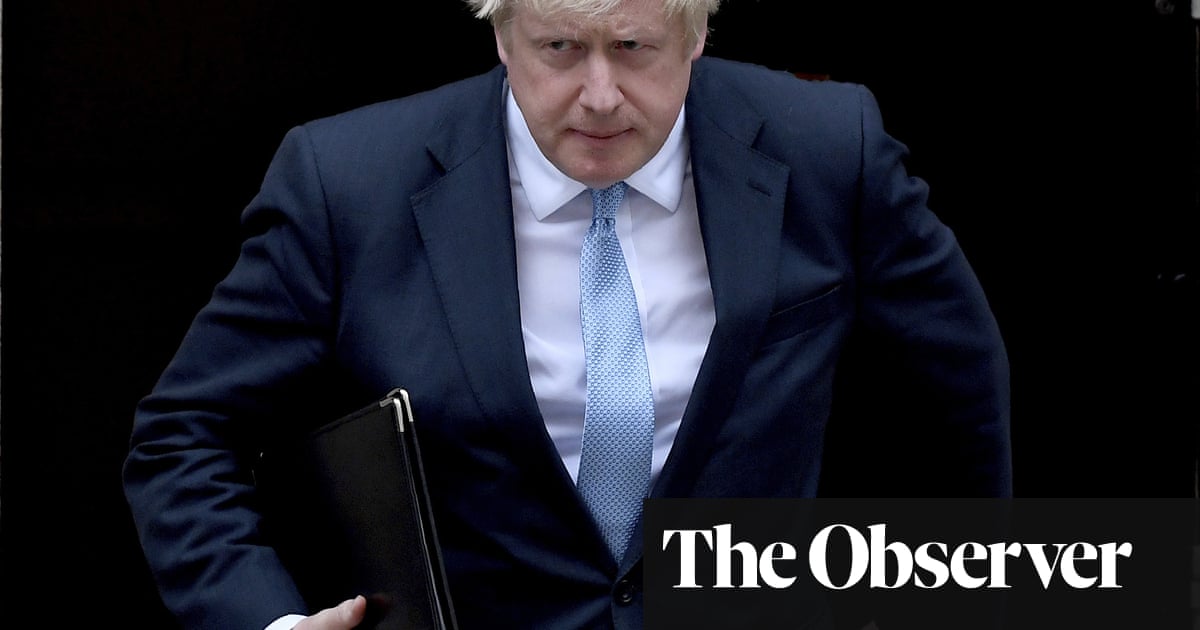 At 11 am last-place Tuesday a group of senior Tory MPs opposed to a no-deal Brexit mustered outside the cabinet room at No 10 for a has met with the "ministers ". The former chancellor Philip Hammond, the ex-justice secretary David Gauke and the former business secretary Greg Clark were among them. Along with other Tory MPs, including Sir Oliver Letwin and Dominic Grieve, and Labour's Keir Starmer and Hilary Benn, they had expended their summertime vacations reaping up a bill they belief would thrust Boris Johnson to seek an extension to Brexit if he could not strike a new deal with the EU by mid-October.
Johnson had held before and since becoming prime minister that he would never ask the EU for another postponement and would take the UK out of the EU on 31 October" bargain or no cope", "do or die". To restriction the amount of parliamentary time the rebels would have to pass the legislation, the primeminister had already announced he would shut parliament down for five weeks from next week ahead of a new Queen's communication on 14 October. But the cross-party alliance opposed to no treat had moved fast in response, and accelerated their plans. As they chatted before the satisfy, they were confident they had both the numbers to get the bill on the statute book and the time to do so before parliament was closed.
Outside in Whitehall, and down the road in Parliament Square, a constant rucku of dissent and counter-protest rang out from Remainers and Leavers alike. It was parliament's first day back after the long July and August recess- and the controversial prorogation bulletin. Police had separated beings on different backs of the Brexit divide as best they could but still arguments broke out between them on the pavement. Remainers sung "stop the coup" while Leavers carried placards saying " Traitor Parliament" and" Boris. No Deal is Ideal ". Opposite the entryway to the Commons one of the protesters, Dr John Dinnen, said he had woken up at 2am so worried about what Brexit would mean for peace on the island of Ireland, where he was born, that he had decided to get a train from Hereford to protest about a possible no slew." I feel very strongly about it ," he said.
When the No 10 meeting got under way, the former Tory diplomats- members of the so-called Gaukeward Squad- questioned Johnson what proposals he had to break the deadlock with Brussels and secure a new agreement to stop the UK crashing out in less than two months' day. If he certainly had such a plan, and it proved acceptable to the EU and parliament, they made clear that their efforts to force him to go to Brussels to ask for another delay would be unnecessary and everyone would be happy.
" He had a folder on the desk with him and pointed at it, suggesting the plans were inside ," said one informant at the convene. The MPs then inquired whether the folder's contents had been presented to EU captains." His response was that the EU would only really begin negotiating in earnest when it was sure the UK was serious about no slew ," said other sources." And the PM was clear the EU was not yet sure that we were serious about no treat so nothing had been sent to them yet ."
The message Johnson wanted to convey was that the MPs' attempts to block no transaction were taking the heat off Brussels. During an hour of discussions, Clark asked for some specific details on particular issues and Johnson said someone from its term of office would win back to him. Later the working day, Clark received a phone call from Johnson's closest aide, Dominic Cummings, which failed to provide answers. Instead Clark felt himself on the end of a foul-mouthed tirade.
According to roots aware of the exchange, Cummings bellowed at him, saying:" When are you MPs going to realise that we are leaving on 31 October ?" before adding:" We are going to fucking purge you ."