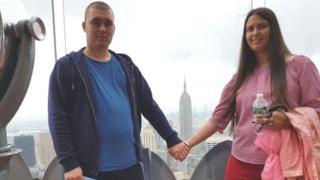 A couple who had to go to court for taking their child out of academy to go on their honeymoon have "no regrets".
Janine and Shane Scott, from Stockton, on Teesside, took Elissa, seven, to New York for five days guessing it was an "exceptional circumstance".
But when they returned they were given financial penalties notifications by St John's Church of England Primary School.
They refused to pay but magistrates backed the school and told the couple to offer its costs.
The school said the couple had booked the trip without "prior discussion".
Mr and Mrs Scott said they had refused to pay the PS60 fixed penalty notice as a matter of principle when they appeared at Teesside Magistrates' Court.
'Really short notice'
They now have until 7 December to decide whether to pay PS3 00 towards the school's costs and admitted a careful, or to fight the instance and threat criminal convictions if they lose.
Mrs Scott said: "I don't regret taking Elissa on our honeymoon – it was emphatically in her best interests, but in hindsight I'd request permission in writing from the school.
"I do now also regret that have also decided to phone up; it was short notice."
Latest news and revises from north-east England Image caption The parents of seven-year-old Elissa said the trip was educational