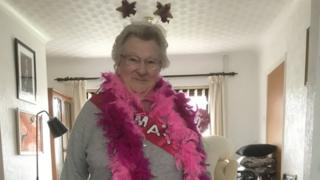 Orphaned at seven and jam-pack off been like living with a "cruel" aunt, May Webber had a more difficult start in life than most.
Only wartime evacuation saved her farther misery.
But her distressing, fragmented childhood caused her to lose linked with her three older sisters and brother.
Now, more than 80 years on, Mrs Webber is eventually convened her "lost" family at a get-together at her Port Talbot home.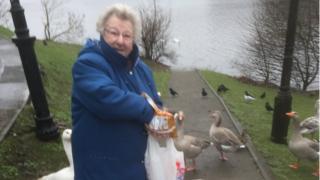 Intrigued by Mrs Webber's narrations of her challenging childhood, a relative with an interest in genealogy, Angela Doyle, set about are seeking to track down the family she had lost.
Mrs Doyle spent seven years trawling through public enters and ancestry websites in her search for Mrs Webber's siblings.
Alice, Mary, Nellie and Edward had, like Mrs Webber, been born with the surname Mitchell in Peckham, south east London.
All four siblings were older than Mrs Webber and had left home when their parents died – their father from a brain tumour and their parent, just three months later, from the tuberculosis he developed after being gassed during World War One while opposing in the trenches.
Mrs Webber said she was legally adopted by an uncle, whose spouse relentlessly "tormented and bullied" her.
When she was 12, World War Two have broken out and she was evacuated to a family in Ascot, Surrey, where she remained for several years after the war.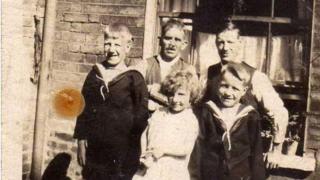 She eventually matched her first partner, David Williams, while working as a nanny in Pwllheli, Gwynedd, and the couple set up within Port Talbot, where they promoted their own families.
Widowed in 1984, she remarried in 1987 to Geoff Webber, who died from asbestosis 10 years later.
Mrs Doyle's detective work pinpointed several progenies of Mrs Webber's siblings in countries of the south of England, although sadly her siblings themselves had died.
Alice, 102, and Nellie, 100, died within six weeks of each other only two years ago, during Mrs Doyle's search for them.
"If exclusively the breakthrough had happened sooner, " said Mrs Doyle.
Her sister Mary and brother Edward had died in the 1970 s.
Mrs Doyle said that although her sought for Mrs Webber's house was undertaken in 2010, she had to wait until two weeks ago for a breakthrough.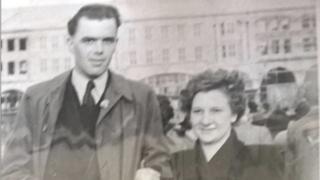 "Because May had been adopted and because she recollected so little of her parents and sisters, I was not inducing much progress, " Mrs Doyle explained.
She left a meaning on an pedigree website "in desperation" asking for anyone looking for Mrs Webber to get in touch.
"As luck would have it, her sisters' family is likewise searching and saw my word, so they get in touch two weeks ago, " she said.
"The only sadness of it was that we were too late to reunite May with her brother and sisters."
She was reunited with Alice's daughters, Elaine Lewis, 76, and Margaret Wellington, 73, Mrs Lewis' daughter, Kay Lewis, 48, all from Portsmouth, Hampshire, and Mary's daughter, Ann May, from Sidcup, Kent.
'Happy home'
Preparing to welcome the family she did not know "shes had", Mrs Webber had said: "We will have so much to talk about. There's so much I want to know about my sisters and brother and I hope they will be able to fill in the 83 blank years.
"But I do have perceives of sadness too. I had a very unhappy "childrens and" my room of to address it ever since has been to put it out of my intellect as best I could and to throw all my powers into creating a adoration, happy home for my three sons.
"So for 80 -odd times, I've done my best not to live in the past and now that past is right there.
"I have had motley flavors about the get-together, if I'm honest, but their own families has convinced me this is the right thing to do and I do of course have so many questions I want to ask them."
Mrs Webber, who worked at the former JR Freeman cigar factory in Port Talbot for nearly 50 years, said she would be providing her guests home-made shepherd's tart and "plenty of tea".