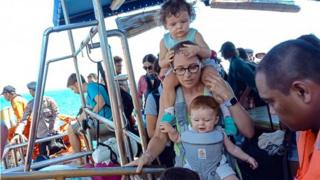 British sightseers caught up in the 6.9 amount shake in Lombok, Indonesia – which killed nearly 100 parties and left at the least 20,000 parties homeless – have been speaking about what happened.
"It was just horror, people were screaming, beings had shards of glass stuck in their legs, all the staircase used to go, " says Luke Turner, who was on the third largest storey of his hotel when the quake struck.
"The whole of the inn had been razed, literally dropped in the earthquake.
"We had to all run up a extremely steep slope because of the threat of a tsunami.
"People were hollering, being sick.
"The neighbourhoods that had lost most of their support were worried about their own families."