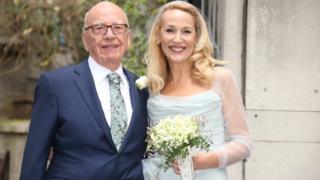 Rupert Murdoch and Jerry Hall have commemorated their marriage with a service of celebration at a religion in London.
Friends and family of the media mogul and the former supermodel gather together St Bride's Church near Fleet Street a daylight after their civil ceremony.
St Bride's is known as "the journalists' church" after the area's connection with the profession.
Around 100 guests attended, including the couple's 10 children from previous relationships.
It is Mr Murdoch's fourth union and the first for Miss Hall, 59, after her 1992 Bali wedding to Sir Mick Jagger was later deemed legally void.