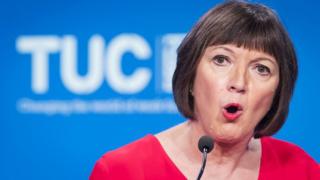 The head of the UK's unitings has alerted Boris Johnson she will "get to hear" what goes on in post-Brexit trade talks with the EU, even if the prime minister tries to withhold items from her.
TUC general secretary Frances O'Grady said European chairmen were open with their unions, who elapsed information on and maintained her "well plugged in".
She counselled the PM to defend workers and not form EU talks a "virility test".
Downing Street promised it would not "weaken" employee protections.
A spokesperson said the government wanted to draw the UK "the best place in the world to work" and would maintain "exceptionally high standards".